- Graduate Programme in Political Science -
1. Register at: irk.uw.edu.pl/en-gb/
2. Complete your personal data and attach the required documents.
3. Select the chosen programme of study – Graduate Programme in Political Science
4. Pay the application fee.
5. Take part in the admission process.
6. If you have been qualified, submit the required documents.
7. You will receive the decision on admission to the programme.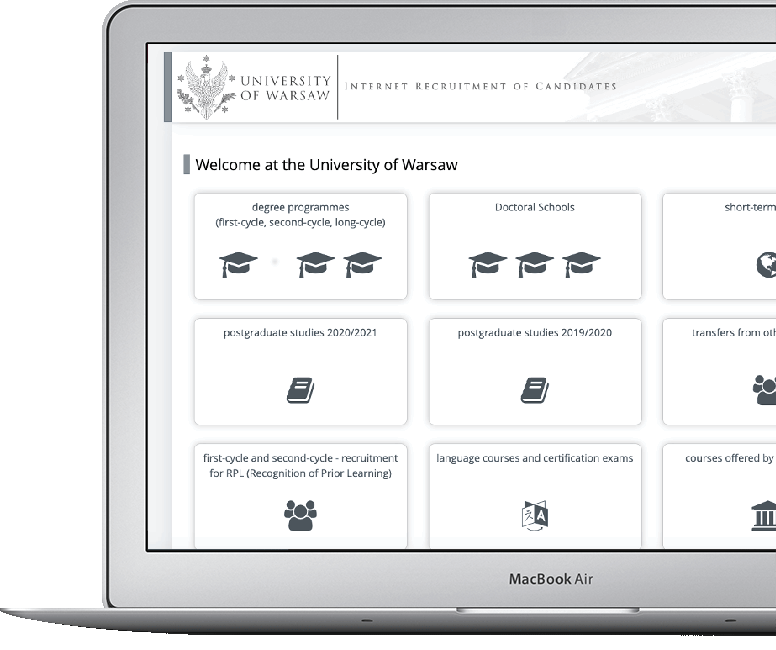 Tuition fee for the first year of the programme – EUR 3,000*
Tuition fee for the second year of the programme –EUR 3,000*
—
Total cost for the Programme: EUR 6,000
* The fee can be paid in instalments – EUR 1,500/semester
Amount of application fee for registration to one chosen field of studies as well as level and form of studies  is PLN 85. If the candidate is obliged to participate in written exam, oral exam or qualification interview, the amount of application fee is PLN 100. In case of candidates participating in exam or qualification interview conducted by the admission commissions, aiming only at checking knowledge of Polish or English language, the amount of application fee is PLN 85. Final amount of application fee depends on the number of chosen fields of studies.
The admission requirements for the academic year 2020/2021 are available

More information about admission for academic year 2021/2022 will be announced on February, 2021.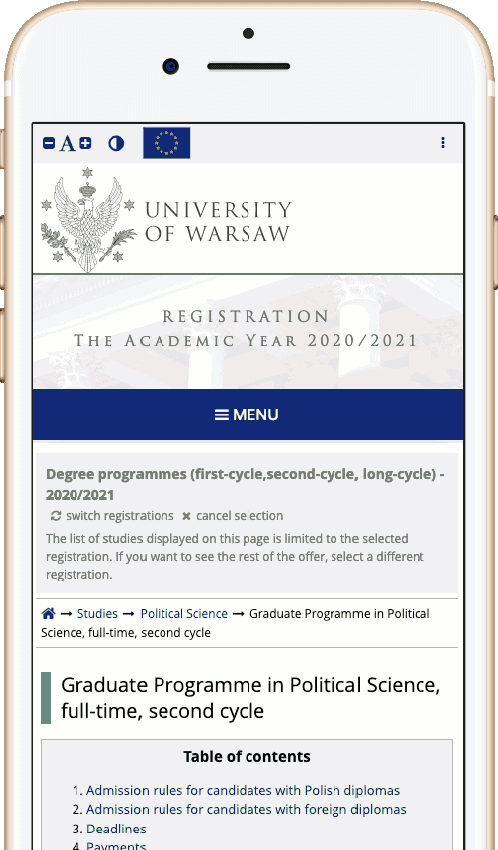 Please note!

Documents printed out from individual registration account at IRK system must be signed by the candidate. In case of positive qualification, originals (or certified copies by notary public) should be sent by post or delivered in person, in order to guarantee admission.
On arrival to Poland additional documents must be submitted:
A photocopy of visa or other document proving legalisation of stay in Poland – in case of foreigners staying in Poland
If applicable, a certificate of recognition (nostrification) of secondary school certificate (issued by the Education Office), in case of not holding the document – statement on obligation to submit in due date a certificate of recognition (nostrification) of secondary school (maturity) certificate, printed out from candidate's individual registration account and signed up by the candidate [read more]